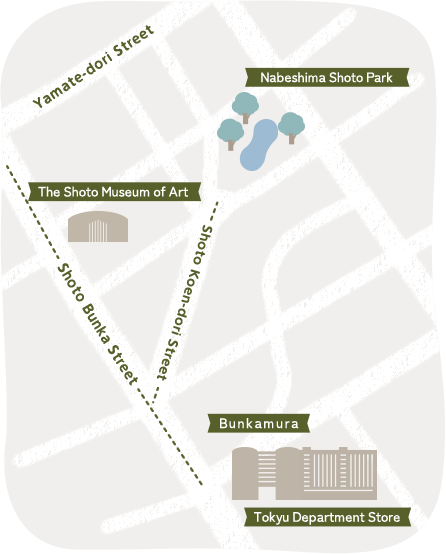 Approx. 3 min. walk from the "scramble" crossing in front of Shibuya station, which has become as famous as Mt. Fuji for sightseers from all over the world. Turn left at the 3-way junction in front of the main Tokyu Department Store building which shows an authentic atmosphere. Then, you will see the entrance of the village where time flows richly and slowly, unimaginable from the dizzy and noisy town just a few corners away.

The road from the front of main Tokyu Department Store to Yamate-dori Street is Shoto Bunkamura Street. On the way to Yamate-dori Street, the road turning right to Nabeshima Shoto Park is Shoto Koen-dori Street. The elegant corner of the town surrounded by the new two streets is Shoto Bunkamura Street where people enjoy walking, where people want to walk along the street.


Along Shoto Bunkamura Street are famous cafes, restaurants, theaters, movie theaters, galleries, and live houses, where you can enjoy varieties of food/drink, activities or cultural entertainment. At the same time, the lively atmosphere of shops operated for long years from Showa period has supported regional peopleユs lives such as liquor stores, pharmacies, vegetable shops, and eel restaurants is appealing very much to visitors while located in trend setting Shibuya.

Another appealing point of the village is its lush greenery. Buildings with green ivy and crepe myrtle along the street. Bright colored azaleas in bloom along road sides. Also, Nabeshima Shoto Park has a pond which brings precious spring water into the Shibuya area. Such natural beauty is a unique scene of Shoto Bunkamura Street that welcomes visitors' eyes and hearts.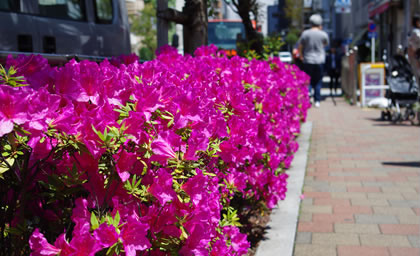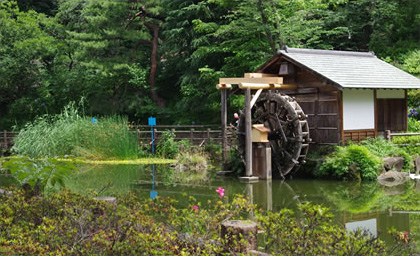 Please choose the station you are using .


Cross the "scramble" crossing to SHIBUYA 109 side.

Cross the crossing in front of SHIBUYA 109 and go along Bunkamura Street while seeing 109 to the left.

You will see the main Tokyu Department Store building.
※If you come from Exit 3a, go to the left direction after going up to the street level.

At the main Tokyu Department Store building crossing, turn left seeing Don Quijote on the left.

If you go straight while seeing the main Tokyu Department Store building to the right, you will see the entrance of Bunkamura.

Shoto Bunkamura Street starts from there.


Exit from the North exit of Shinsen station.

Go down the stairs at the station and turn left on the front road.

Go straight.

At the end of the road, you will see Shoto Bunkamura Street to the front.

Turn right, then you will see the convenience store, Lawson. On the other side, there is 3-way junction with the landmark of Shoto Bunkamura Street, Galettoria.